Dates soon
Wado Academy Summer Course – Lymington
Forms to come soon.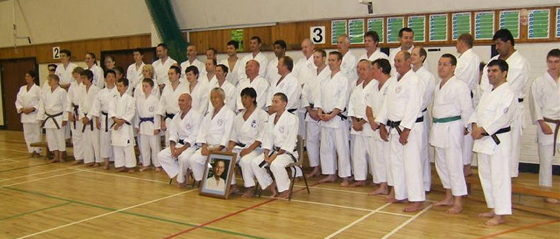 The Lymington area has many guest houses and hotels. It has a number of pubs and restaurants and the area is pretty quiet. Shiomitsu Sensei stays in Milford-on-Sea, and the last day training in the sea is done very near there. Note that Milford is even more quieter than Lymington.
Accomodation
Caravan parks with lodges
Hoburne – www.hoburne.com (Look for Hoburne Naish and Hoburne Park)
Solent Reach Mews – www.solentreachmews.co.uk
www.shorefield.co.uk
Downton Holiday Park
Hurst View Leisure

Hotels and Guest Houses
Google search on Lymington accomodation
Premier Inn – Somerford, Christchurch
Premier Inn – Bournemouth, West Cliff
If you plan to stay in Bournemouth, please be aware that in summer it may take you up to one hour to get from Bournemouth to Lymington due to holiday traffic. It can get bad.
Bars to keep away from
Whilst in Bournemouth, recommended to keep clear of the Walkabout and Yates bars, plus the Lava Ignite nightclub area late at night.
Better drinking areas
In Bournemouth (just head for 'Bournemouth Square') – Bar So , 60 million postcards , Moon in the Square (Wetherspoons), Aruba , Slug and Lettuce
In Christchurch – Soho , Ye Olde George Inn
In Lymington – The Ship Inn
Restaurants
In Bournemouth:
Nippon Inn (Japanese)
Ocean City (Chinese)
Korean Grill , Maru (Korean)
Funki Sushi (Eastern Fusion)
Wagamama
La Strada (Italian)
Cuccini (Italian)
Other restaurants:
Pebble Beach, Barton on Sea
Three Tuns, Bransgore in New Forest
Stanwell House Hotel, Lymington (fine dining aka expensive)
Cinemas and entertainment
Odeon, Westover Road.
Empire Cinemas, Tower Park , Poole. Larger complex.
Russell Cotes museum – free entry
There are plenty of places to walk in the New Forest.
Try visiting Lyndhurst, Burley and Beaulieu (motor museum).
You can also get the ferry to the Isle of Wight from Lymington for a nice daytrip.
There are 7 miles of golden sandy beach in Bournemouth. It stretches from Hengistbury Head all the way to the millionaire's bit of Sandbanks.
I would recommend just going to Southbourne beach or Boscombe. Going to Bournemouth pier will be very busy in summer.
Shopping
Bournemouth has good shopping but you may also want to go to Southampton – West Quay or Portsmouth Designer Outlets – Gun Wharf Quay. You may also want to try Poole as well. Going further west in summer can be a pain.
How to get there – Directions
From Gatwick
You can ask at the ticket office for the best option on the day but this is an example of how it can be done.
Take train from Gatwick to Clapham Junction, change and take train to Brockenhurst, change and take train to Lymington Pier.
From Heathrow
You can ask at the ticket office for the best option on the day but this is an example of how it can be done.
Take bus from Heathrow Terminals to Woking, change, take train to Brockenhurst, change and take train to Lymington Town.
By Train
Lymington is not on a main railway line. You need to get to Brockenhurst first. Some trains from Waterloo do go direct to there. Otherwise you can get to Southampton Central first and then change to get to Brockenhurst.
By Road
Lymington is just below the bottom of the New Forest. Please be aware that summer holiday traffic can be slow.
If you can get to junction 1 of the M27 then simply take the A337 through Lyndhurst, Brockenhurst and into Lymington.
From the North and East, aim for the M3 then M27 Westbound.
From the West and Bristol area, head through Salisbury. From South of Devon, come through Dorchester. Best bet is to head to Ringwood and miss out Poole and Bournemouth town. You could then take the B3347 to Christchurch and then follow the signs West to Lymington.